Bridal Makeup Artist- Liren Neo Biography/Review

More than 10 years ago, Liren Neo first got into the wedding business when she started working in a bridal shop. Her initial tasks had her sewing, fitting, and selecting dresses, but she watched all the bridal makeup artists at work and eventually began to do some of her own bridal makeup. Eventually, she left the shop and continued to improve her makeup technique for the next three years.
At a very discerning Taiwanese bridal shop, Liren built a strong reputation and portfolio. Every client that came in looking for a makeup artist requested her by name. It was these same clients that encouraged her to branch out and start her own business. Finally, in 2007, Liren branched out and Beauty Magic by Liren Neo was created.
Initially, business was received by word-of-mouth from her clients. Within the first two years, she became more established through publicity, posting testimonials from customers online, and conducting classes for both prospective or current makeup artists and interested people.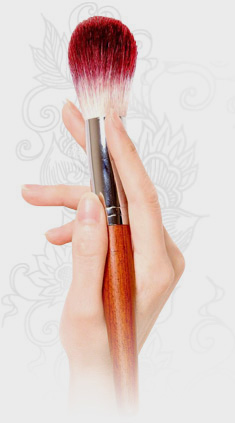 Makeup Artist Consultant Liren Neo philosophy

Liren's philosophy in makeup is to use naturally coloured makeup to enhance a person's natural features through both macroscopic and microscopic analysis of a person's face. She believes that concealer is not necessary and that there is no such thing as a standard makeup procedure that works for everyone. Instead, she affirms that the best makeup artists are not only skilful in painting; they must utilize a unique combination of having a masterful eye, skilful hands, and a sharp mind with a resilient and cheerful personality that strives for perfection.
Through the use of Estee Lauder's M.A.C cosmetic products, Liren's ideals and "less is more" philosophies have led to thousands of beautiful and happy clients. Her achievements have been recognized by organizations such as Cozycot; she has collaborated and sponsored events with institutions such as Mediacorp, the National University of Singapore, SAP, and Cable and Wireless, among many others. In 2011, Liren has expanded her company to include Makeup Artist on Call, which provides affordable professional makeup services at any time on any day for any occasion as long as notice of at least 24 hours is given.
Today, Liren still teaches makeup courses to makeup artists old and new and for people interested in learning about makeup. Despite her success, she refuses to become complacent and still approaches every client with the same enthusiasm and zeal that she had when she first started painting faces years ago.
Makeup Artist Professional Consultant
Liren Neo